Award Winning Management Consultants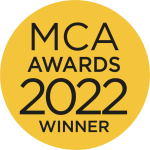 Vendigital Director named as winner in Experienced Leader Category
For the fourth consecutive year, Vendigital has been recognised at the MCA Awards with Director Julie Neal winning the Experienced Leader Award.
Vendigital was also a finalist with 4 additional entries.

Gold Medallist & Top 20 Management Consultancy
Vendigital has achieved Top 20 ranking for the fourth consecutive year.
In this report we have been awarded one gold, two silver and six bronze medals across sectoral expertise and consulting service categories.